Archive | Uncategorized
RSS for this section
This week's Random Act of Kid-ness comes to us from Baltimore, MD, where a third grade class raised over $13,000 through lemonade stands and an online campaign to help their teacher. The teacher, Anne Mekalian, lost all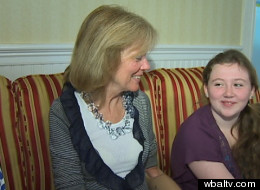 of her limbs when a blood infection led to gangrene. The money raised would give Anne the funds to properly outfit her car and get driving lessons so that she can one day drive again. One student said:
"We want to see her in the hallways and the classroom, and we want to make sure she's in our school again because I want little kids younger than me to know how great she was." 
What an amazing act of generosity! Read more about the story here and check out the students' online donation page here.
This week's Random Act of Kid-ness features a new website that promotes good deeds among children. The website Karma's World was developed by Ludacris and his 10 year old daughter, Karma Bridges, as a way for children to have fun while learning about kindness, honesty, and manners. Ludacris says:
We wanted the site to be educational, fun and full of music that all kids will enjoy, but we also wanted it to teach kids more than just academics. The site touches on subjects like, the rewards of hard work and importance of learning manners as well as the idea that doing good deeds for others will bring good into your life – which is the meaning of the word Karma. 
We love when parents and their kids work together on projects to make this world a better place! Check out the website, and let us know what you think! For more information, click here.
—————
"Once you begin to acknowledge random acts of kindness – both the ones you have received and the ones you have given – you can no longer believe that what you do does not matter." -Dawna Markova 
"We learn by doing" is the premise for our museum, our educational outreach, and our play. Welcome to the Zimmer Children's Museum, where kids can learn how to rescue by imagining themselves as a coast guard boat captain, as a fire fighter, or as an ambulance driver. At the Zimmer, we teach about building community by giving our visitors the chance to build theirs. Through art, creative role play, imagination, innovation, and sheer play, children of all ages can learn about what it takes to be an active part of a community by participating in our exhibits and programming. And when you are too old for the museum, you can learn by doing community service, taking action, and being a peer leader in the Zimmer's youTHink initiative. We all learn by doing, so come visit us and "do." 
"Not many years ago I began to play the cello. Most people would say that what I am doing is 'learning to play' the cello. But these words carry into our minds the strange idea that there exists two very different processes: (1) learning to play the cello; and (2) playing the cello. They imply that I will do the first until I have completed it, at which point I will stop the first process and begin the second. In short, I will go on 'learning to play' until I have 'learned to play' and then I will begin to play. Of course, this is nonsense. There are not two processes, but one. We learn to do something by doing it. There is no other way."
- John Holt, from Chicken Soup for the Soul: 101 Stories to Open the Heart and Rekindle the Spirit